"Boards have struggled to gain acceptance that new approaches are needed".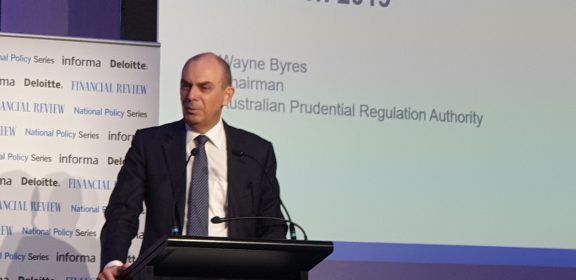 Speaking at the AFR Banking & Wealth Summit in Sydney on Wednesday 27 March 2019, APRA Chair, Wayne Byres said APRA had concluded many of the institutions it regulates had failed to adequately address executive pay. He declared that regulatory intervention would now be inevitable.
Referring to the banking royal commission's findings outlined in Commissioner Hayne's final report, Byres agreed that APRA had to implement more intrusive supervision and robust regulatory frameworks.
Over reliance on executive bonuses tied to short term financial targets would need to adjust with non-financial considerations being used as a more prominent benchmark of performance in the future.
The Banking Executive Accountability Regime (BEAR), would be viewed as the minimum standard but Byres would expect most institutions to put in place a higher standard and aspire for better practice. This would likely include longer term deferrals on bonus payments and claw back provisions where emerging risks later resulted in breaches and restitution.
While Byres admitted APRA could not regulate good culture into existence, Boards would have to take responsibility for tidying things up.
"How can boards and management give themselves a pass mark, when they have identified a wide range of weaknesses in a number of key areas? Do boards and management have a blind spot – that blind spot being themselves?"

Wayne Byres, APRA, Chairman, 27 March 2019
Speaking at the same Summit, David Murray, Chair of AMP, criticised the over-zealous crackdown on banking culture, describing it as 'over the top', stating there was a risk of returning to the Pre-Campbell 1980's before deregulation which will erode competition. Mr Murray argued we won't solve current problems by trying to regulate culture but by focusing more on systems.